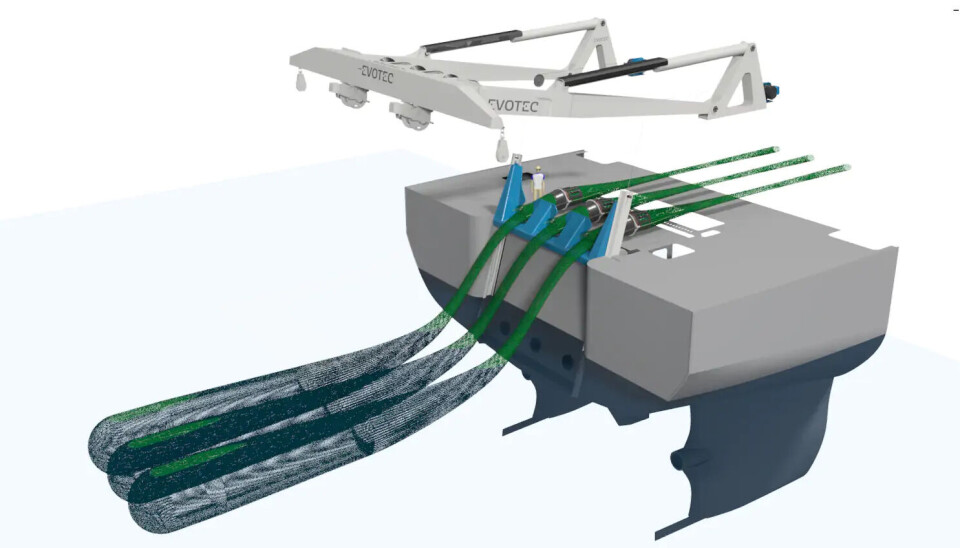 'We are very proud of this'
Bluewild has chosen Evotec as supplier of a complete deck handling system for "Ecofive". The company will also deliver completely new technology for receiving trawl nets.
The contract for the Ecofive project includes 40 electric winches, A-frame and deck cranes. In addition, the logistics solution comes with a side gate and lift, a completely new trawl reception solution, automation and various control systems. Everything is designed, manufactured and delivered from Evotec's factory in Ulsteinvik.
"Fishing is one of our biggest investment areas and we have been very successful recently with several new contracts," says Håkon Woldsund, sales manager at Evotec
With the new trawl-receiving solution, the vessel can take the catch into the vessel without it going via the deck.
Based on Bluewild idea
The vessel must be able to trawl with one to four trawl bags and will be able to receive all the fish below the waterline. This reduces the risk of pinching and stress on the fish upon reception.
"The patented solution (Reception and Trawl Handling Solutions™ Ulstein Design & Solutions) for this is an innovation. It is based on an idea from the customer and developed in close dialogue with the customer and ship designers. We believe the solution can also have potential in pelagic fisheries and aquaculture," says Woldsund.
Evotec also supplies the modern trawl winch, MultiSoft, with SRPM motors and converters.This solution with synchronous reluctance PM motors is Evotec the only company to have for this type of vessel.
In addition to excellent dynamic properties and the market's highest efficiency, Evotec MultiSoft offers great savings on weight and space requirements.
Tough competition
Evotec won the assignment amid tough competition from several large Norwegian and international players. The company supplies automated handling solutions to the international maritime industry and is located in Ulsteinvik in Norway, in the middle of the world's most complete maritime cluster.
The company takes pride in delivering efficient solutions, and the combination of understanding the customer's need for efficient logistics on deck with an efficient automation system is absolutely crucial. All the items of equipment such as winches, booms, winders, cranes and more are controlled via the company's own control systems, and delivered to the maritime industry, worldwide.
Evotec has a scalable business model where sales, design, engineering, assembly and testing take place in-house and where an extensive supplier network ensures the production of its mechanical and electrical components.
"We are very proud of this, which shows that our professional environment in Ulsteinvik is among the very best in the field," says Woldsund.