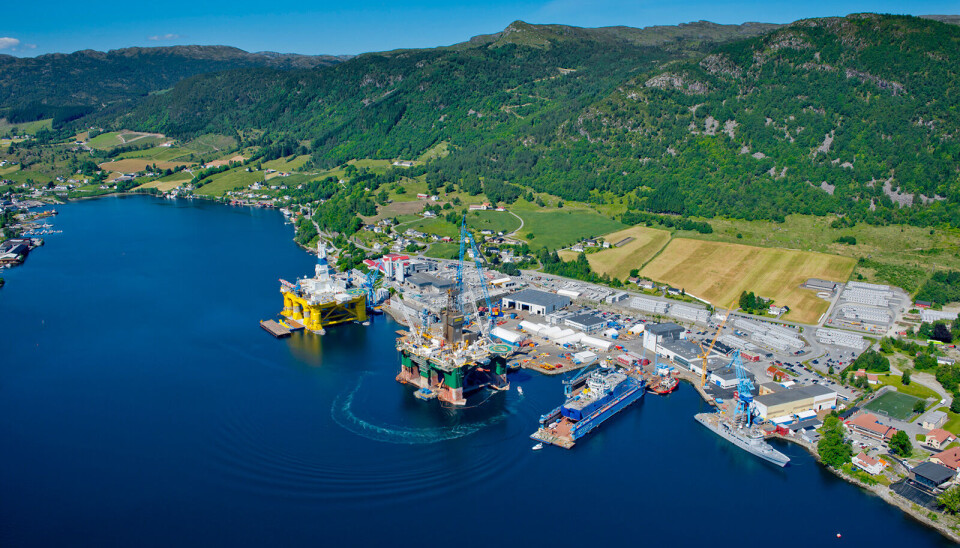 The dream team strikes again
Westcon Ølen sails up as the kings of Ship of The Year. In the last three years alone, they have won twice, and been nominated another time. As with "Hydra" with which they won in 2021, it is a lot about prototypes and new solutions.
In Sunnhordland, around 50 minutes' drive from Haugesund, is the idyllic town of Ølen. Just across the fjord is Westcon Yards Ølen, which is one of the cornerstone companies in Vindafjord municipality. Over the past three years, some of the most exciting vessels in Norway have been built there.
In 2021, the yard won Ship of The Year for the world's first ferry with hydrogen as an energy carrier, MF "Hydra". Then last year they were nominated for yet another ferry, MF "Ryfylke". Both in collaboration with Norled and with LMG Marin in Bergen as designers.
In 2023, they stand at the top of the podium again as winners of Ship of The Year, and as in 2021, it is with the same project manager.
Compared to "Hydra", "Ecofive" has a far greater number of solutions that are pure prototypes, says project manager Geir Heggen.
"The sum of the work done has required everyone to stretch themselves to get a good vessel. The whole project has revolved around that. We have cooperated with the suppliers throughout."
Endre Matre, who is Head of Technical and New Construction at Westcon Yards, adds that with this project they are building a factory that is very sophisticated in terms of catch handling and optimal utilisation of the fish.
"When you have to take it from idea, to drawing and to construction, it is when we start on the practical work that we first see if what is planned can be built. It has required enormous coordination and work effort to make the good intentions of the project become reality."
Praise for the shipowner
The shipping company had been working on the project for many years, including with the designers at Ulstein Design & Solutions, before Westcon came into the picture.
"By then, some of the ideas were already nailed down, without them being drawn out in detail. Then it was our job to further develop it into something that can actually perform the job it is set for," says Matre.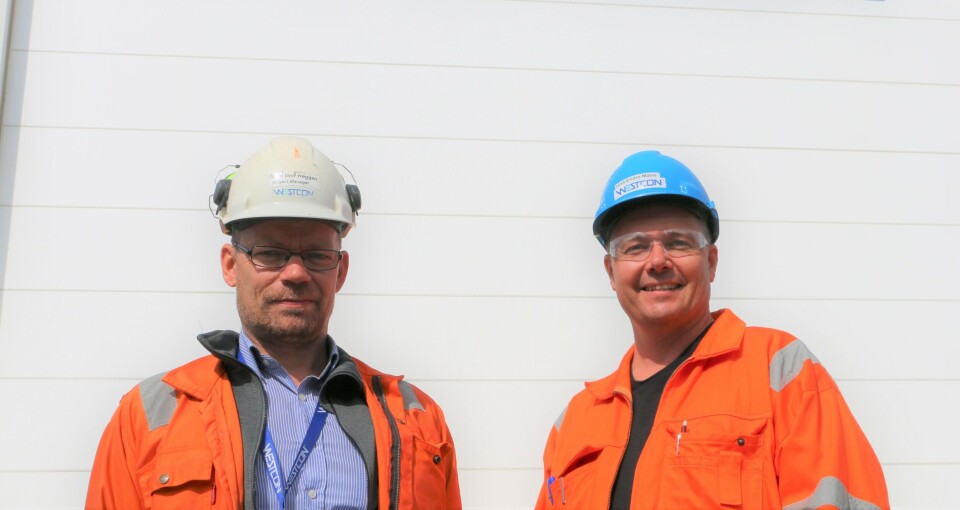 He gives ship owner, Tore Roaldsnes, credit for being so forward-thinking that he dared to start the project. Because it is he who basically takes the risk that it will work in the end.
"He has to live with the vessel, and if he doesn't get fish, it's his wallet that gets hurt. So he is the innovator here and to the extent that the laurels are to be handed out, he is the one to have them. We are the ones who make the architects' visions become reality."
Project manager Geir Heggen also gives credit to Roaldsnes.
"He has been absolutely central throughout this project. We have sat a lot in Teams meetings and discussed solutions. I would say that it is not comparable to other fishing vessel owners how hands on he has been."
Matre uses the fashion industry to compare what it is like to build a vessel like "Ecofive".
"This is Yves Saint Laurent, it's not H&M."
He believes that it is convenient for the yard to have a shipowner who is so close.
"With so much novel work, it's reassuring that they are so involved. They have remained true to their own ideas throughout. From the time we signed the contract until now, it has developed all the time, including how efficiently the vessel can operate. So if Roaldsnes was right when he started, he is even more right now," emphasizes Matre.
The external conditions such as increased oil prices also make it even more pleasing to save energy.
"It's about getting the most out of the money you put in," says Heggen.
Loyal to the vision
Westcon Yards has shown on many occasions that tackling challenges and embarking on large projects with a will to stand your ground is something that lies in the company's DNA. Not just the times they have won awards, but how they stood through the Covid pandemic and delivered vessels on time.
Matre and Heggen emphasise that it would not have been possible without the good cooperation with the hull yard Norse Celik. They agree that the Turkish shipyard has always been solution-oriented both in tackling the challenges surrounding Covid and in tackling new solutions.
"You can also see that in what we have built in the past. We built two vessels with LNG propulsion because we wanted to be as far ahead as possible. But do we really have a choice," Matre asks rhetorically.
"Geir, as project manager, has the ability to solve challenges and move forward," he says.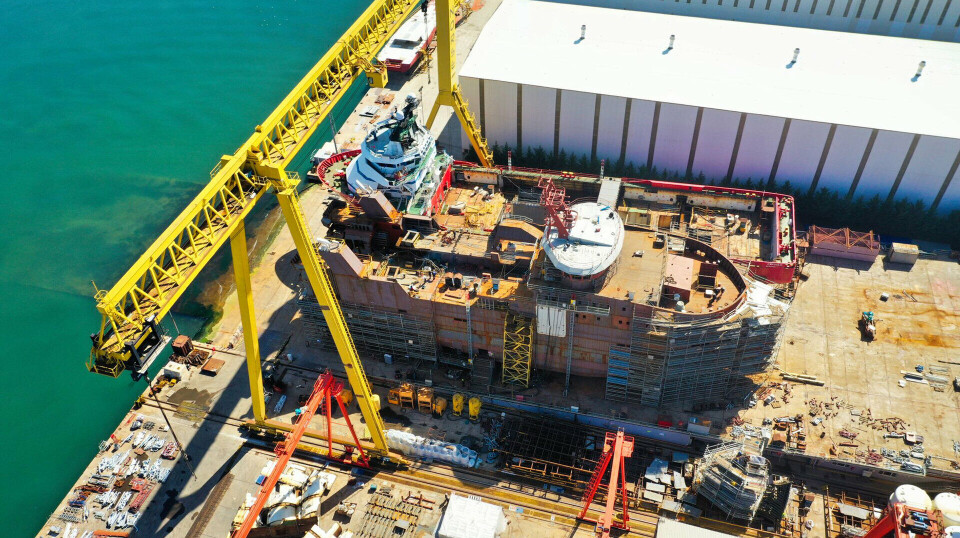 Both Heggen and Matre repeatedly highlight the good cooperation with the suppliers in connection with the "Ecofive" project.
"Everyone has been very helpful throughout. But when it comes to companies like Evotec and Cflow, they have had to come up with new solutions and design things along the way. You often have standard equipment, but this does not apply to this vessel. The same applies to PTG when it comes to freezing the products," says Heggen.
PTG has created a completely new solution for freezing on board by using evaporators on the ship's side. Everything is geared towards making sure that the final product is as good as possible.
It can be easy to think that once the vessel has left the yard, they are done with it and move on. That is not quite the full truth, Matre believes.
"When it leaves, the process begins where we ask ourselves what we could do to make it even better? What we are building is, after all, Roaldsnes' vision. It was the same when we built "Hydra" for Norled. We make their vision a reality."
The crew delivers the verdict
But what is it like when you come up with ideas, solutions and designs that are completely new within a segment of the maritime industry? Does the "Jantelov" - Scandinavians' 'for the good of society' attitude - come into force?
"I haven't heard much directly. But I have heard from others that there are more people who are sceptical. But I think it's actually a bit natural," says Heggen.
But at the end of the day, it is the users, i.e. the crew, who will deliver the final verdict after the finished ship has been delivered. According to Heggen, the chief engineer on board is very positive.
"We are not the right people to assess this. We do not have the knowledge that those who are going out to sea have. We'll get seasick on the trial trip if the fjord isn't steady," says Heggen, laughing.
"We also understand that something that has not been proven before has something to prove. This vessel has many new solutions, and it is clear that there are many things that must work. Some have pointed to the solution of bringing in the fish below the waterline when the weather is bad, but the stern is slanted in such a way that it can be operated conventionally," Matre explains. "We won't get development if someone isn't forward-looking and daring," he continues.
Norway is good at developing prototypes. You can also see clear examples of this if you look at previous winners of Ship of The Year: the first LNG-powered ferry, the first battery-powered ferry, the world's first battery-powered fast ferry and the world's first ferry with hydrogen as an energy carrier, to name but a few. In many cases, the challenge has been to go from development to mass production. We have something to learn there, says Matre.
"We are not very good there. After all, we are a free laboratory for the rest of the world and we want to move in an environmentally friendly direction. We built a ferry with liquid hydrogen, but the next one may have a different solution. We may not be as good at the harvest phase as we are at the sowing phase."
Geir Heggen chimes in:
"It is a prototype for Ulstein Design & Solutions as well. It is the first time in many years that they have designed a fishing vessel. Although the bow is the same, everything else is new, and they have also been dependent on feedback from the suppliers and the shipping company."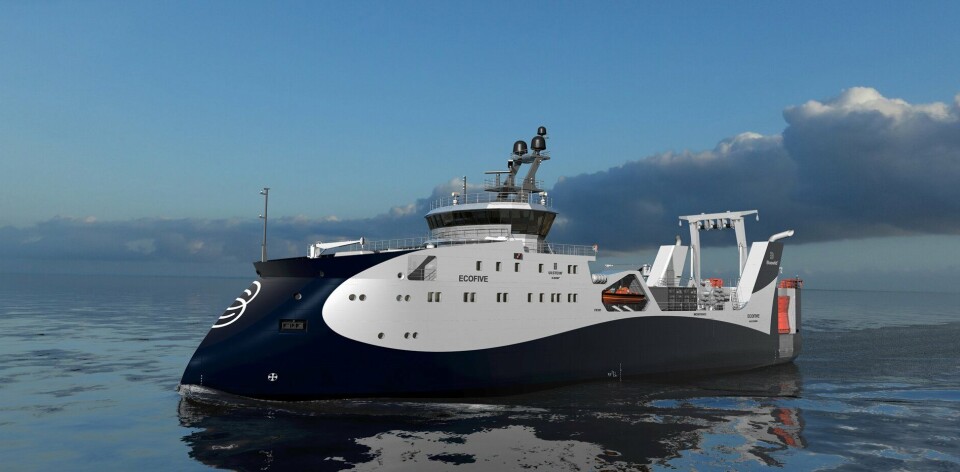 A new standard?
One of the criteria for winning Ship of The Year is transferability. Can the innovations be used on other vessels? The question then becomes whether "Ecofive" will become the new standard for trawlers?
Matre replies:
"I believe that if the results of the innovation work as planned, there are several things that will be included in the next generation of vessels. But the development of a vessel does not follow a straight line. You take the good things with you and leave behind what may not work optimally. The most exciting thing about this project is to see when they get this vessel if they achieve what they want, with fish in the freezer and money in their pockets.
"In any case, one thing is certain. Vessel number ten in this series will not be identical to this one."
Is "Ecofive" as much an evolution as a revolution, then?
"Yes, I think we can say that," says Matre.
With two out of three possible awards on the shelf in the last three years, there is no doubt that Westcon Yards Ølen has been noticed both at home and abroad. After they won for "Hydra" in 2021, many have come to visit the shipyard, says Matre.
"When we won with "Hydra" it was the first time for us and it was a great honour. We see that the maritime community is paying attention to the award, and we also won the Shippax Lifeline Ferry Technology & Environment Award 2022. Many foreign communities look to Norway and we have had delegations from all over the world who want to see how we do things here in Norway."
"We must also make sure that those who dare to stick their heads out have a reason for doing so. We don't live on awards alone, but it is a good motivation," Matre concludes with a smile.