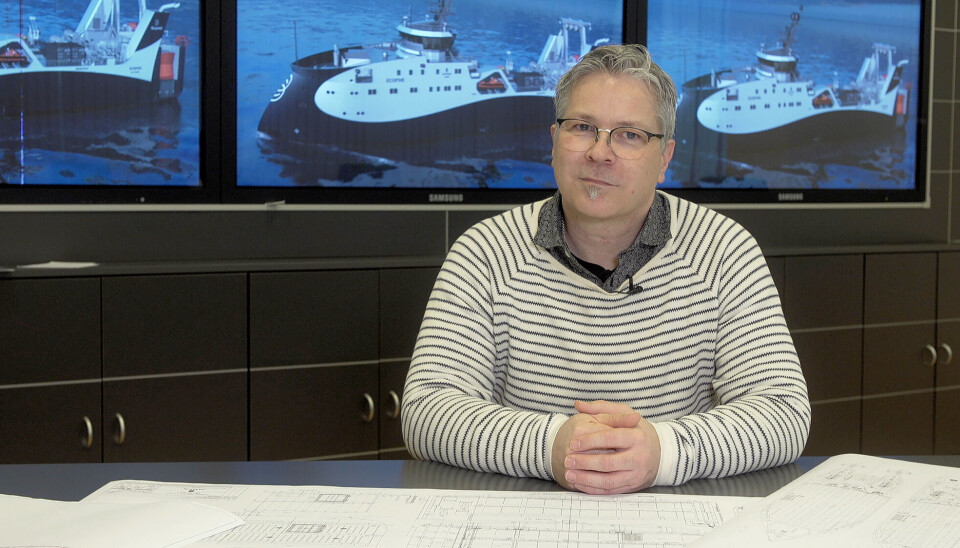 'I have done a lot of strange things, but this is probably one of the most extreme'
Leading ship designer at Ulstein Design & Solutions, Bjørnar Leonard Hatløy, has more or less lived in the "Ecofive" project for close to five years. "I'm probably very engaged, to say the least! It all started with a more basic knowledge base within fisheries, so we have all learned an incredible amount thanks to Bluewild and the good team there," he says.
"This is probably one of the projects I have had the strongest connection with," Bjørnar Leonard Hatløy, leading ship designer at Ulstein Design & Solutions, tells Skipsrevyen.
He has been involved in the "Ecofive" project from the start, and makes no secret of the fact that it has been a long - but incredibly exciting - journey from the idea phase to what is now the final push.
"I have done a lot of strange things, but this is probably one of the most extreme," he says, laughing.

It commands respect

"It was very, very nice to hear that "Ecofive" was named the winner of this year's Ship of the Year. The fact that there is so much new at once and that someone dares to bet so hard on innovation, that commands great respect," he says.

The fact that both the banks and the government funding agencies have been so on the ball and just as ready to invest as the shipping company and partners has been decisive for the project to be realised, he says.

"It is very exciting that they get involved in such projects, it is important that both the policy makers and the banks are where it happens and see what is being developed locally, so that they can take part in such innovative projects. It is absolutely crucial to be able to take such a big leap forward as "Ecofive" is."

The pieces fell into place

We are going back in time for a good while to take a closer look at the first meeting between shipowner Tore Roaldsnes and the design community at Ulstein Design & Solutions.

"That was the beginning of the idea of what was to be the next big leap in fisheries. We thought it was very exciting right from the start, and a lot of the making of innovative decisions and not least the great collaboration between the various companies is something we have many decades of experience with, particularly in the offshore market."

The project started for Ulstein with an analysis process lasting just over six months, where Ulstein, together with the shipowners, looked at areas that could be improved and what would be needed to do so.
"In this analysis process, we looked at operating profiles together with available onboard data. Field studies, operational and technology studies were also carried out which helped to put together requirements and priorities for the vessel. After this process, we started working on first one concept and then another. Time passed and the idea was allowed to mature a little. We then went deeper into the operation with technology and what was available from subcontractors, and then constantly brought in more parts of the breadth of our organisation," says Hatløy.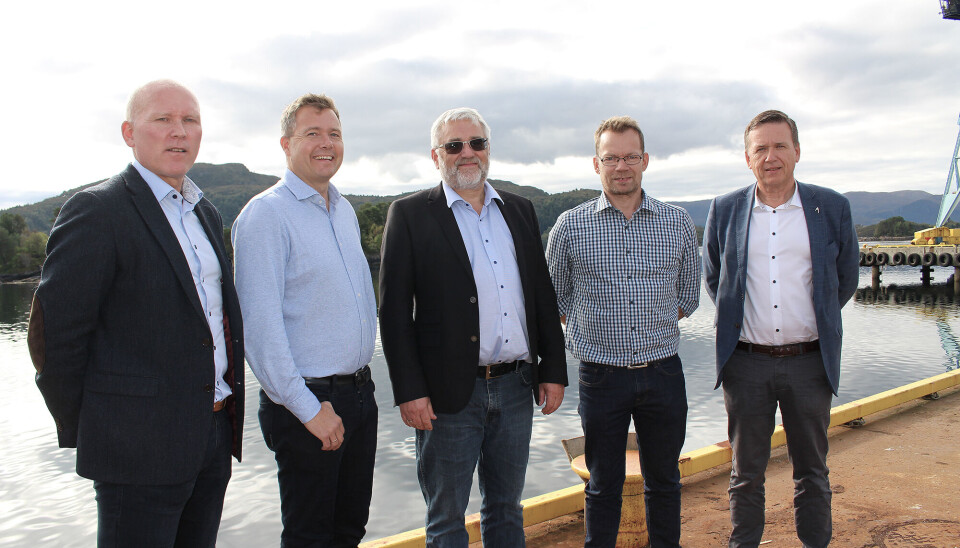 "Then the road went on to work projected into the policy apparatus to see what we could achieve in terms of risk relief. There is an incredible amount of new stuff here. Tore Roaldsnes wanted to take a big leap; he did not want to try out individual elements. His vision was to always have with him the elements that would shape the sustainable fisheries of the future throughout the entire value chain, from fisheries management to end customers all over the world. The pieces eventually fell into place, and we were able to get so far that we got started with a shipyard and then to the phase we are in now, with detailed development and the further work on construction and completion at Westcon Yards in Ølen."
Competing businesses in collaboration
"There are an incredible number of subsystems that must fit together. It requires that competing businesses cooperate for the total system, which we are used to from the offshore side, but which is perhaps relatively rare within fisheries," says Hatløy.
In the project, experiences from the entire industry have been taken into account - not just from fisheries, but from the entire seafood industry as a whole.
"There has also been a very large focus on energy saving; how we could make this a good project for the environment and get a better operating economy. It was at that end we started; the shipping company saw that the price of fuel would increase and remain persistently high, so it was important to build a machinery and propulsion system that would suit this vessel as best as possible. The vessel has two large, slow-moving propellers in the rudder nozzle and can be operated by both diesel-electric and diesel-mechanical methods, and switch between them during operation.
Large battery pack
The vessel will have a fairly large battery pack system, where the system is supplied by Ulstein Power & Control, while the battery itself is supplied by Corvus.
"When the vessel has surplus energy and has nothing to use the energy for, it can be used to recharge the battery and retrieved when the machinery is heavily loaded. In order to ensure the flexibility where it should be neither empty nor full, we ended up going in with a very large battery pack. Whether it is necessary or whether the vessel could have done with a smaller battery pack remains to be seen; we have to try to learn," explains Hatløy.
The battery pack is almost 1,200 kWh and is designed with a management and control system that can continuously receive and deliver energy between both propulsion systems and all consumers on board distributed over two switchboards from a common large energy storage, batteries. The system will operate both when the vessel runs electrically and diesel-mechanically. There is also shore power according to the new port standard with a large capacity, and in port the vessel can be left on battery for periods where this is expedient, operating completely noise- and emission-free.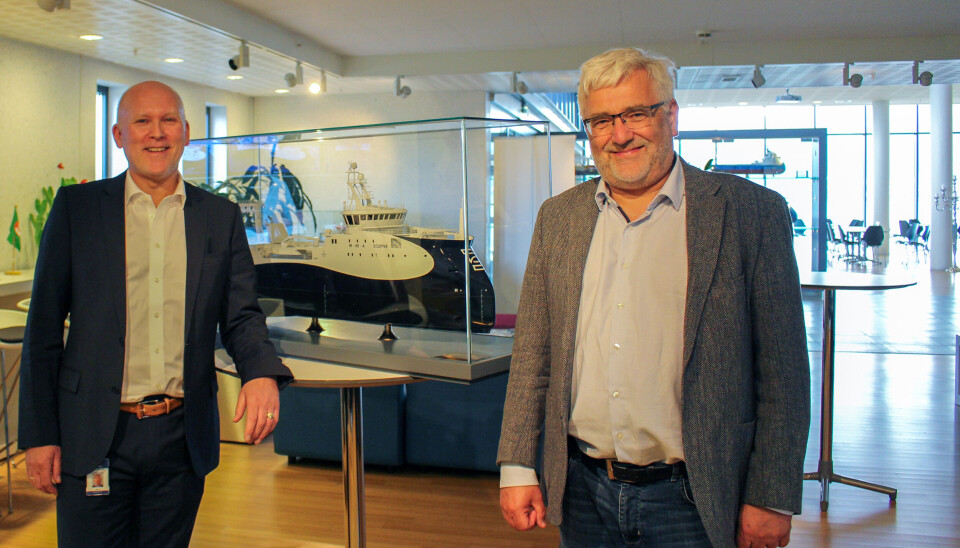 "This is a large and flexible system which has also been a new development for us. It will again have a much wider impact in other parts of the shipping industry going forward," says Hatløy.
The best should also be the simplest
All the innovations on the boat are subsystems that have been developed and combined; it applies to everything from handling on deck, handling the trawl and the catch on board the patent-protected boat, how to best take care of the catch, the factory, the energy recovery system, propulsion system, the energy storage system on the battery pack and CO2 as a refrigerant.
"I think this boat will have the largest pure CO2 freezing system that can be found at sea."
A basic idea throughout the project has been that the best should also be the simplest.
"Behind it all is a control system behind the propulsion system, which should make everything on board the vessel user-friendly. It must be the most economical and resource-managing boat! What utilises the vessel in the best possible way must also be what is the easiest solution to choose at all times. The crew on board must always have an understanding of what the boat is doing; no one should wonder what happens if you press this or that button," says Hatløy with a smile.
It will be different
Even with a user-friendly system with "the simplest possible, always" as a starting point, it's unavoidable that there will also be something completely new.
"It will be a little different from what we may be used to before. Therefore we also have to create a system that looks a little different, and work in a slightly different way to exploit the opportunities. As the boat uses two propellers and a rudder nozzle, in terms of manoeuvring it will also behave in a different way to other vessels; it responds in a different way, and you have to use it in a different way that will be more effective if you use it correctly - but perhaps less effective if you use it incorrectly. The systems must then be easy to understand for the skipper who will be maneuvering the vessel.
"The idea is that it will be a 'eureka! experience' for skipper and crew! It has been an important focus in the design process and now also in the final execution of the construction to take care of that philosophy. We shall not stumble at the last hurdle here," he adds.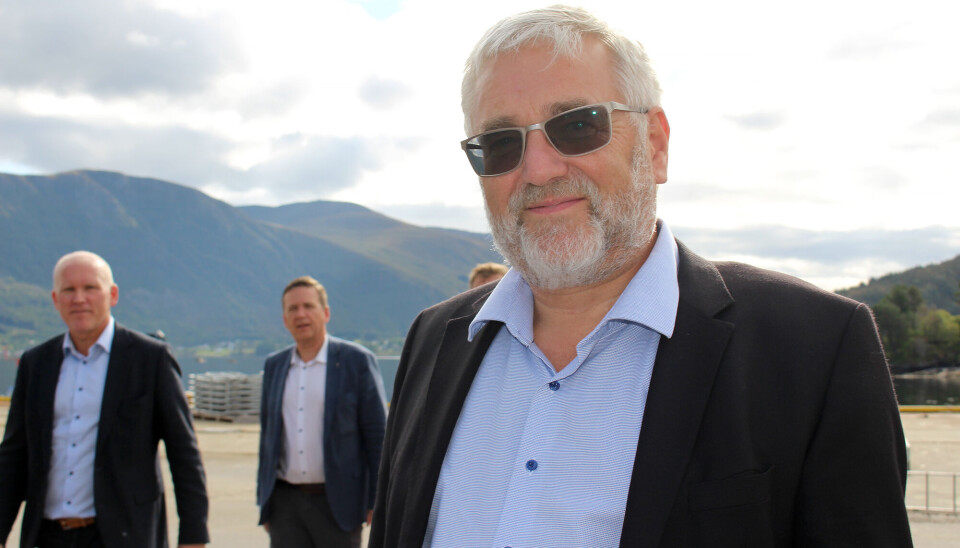 Will be like a laboratory
Hatløy is very much looking forward to seeing "Ecofive" in operation, and seeing all the solutions that will work together - and not least seeing how people use them.
"There is much here that becomes an ocean laboratory for new technology and new ways of doing things. We serve lots of possibilities on a plate here! The fact that the boat is realised with all this here says something about the faith we all have that it will also work, but as mentioned there is a lot new and a lot to be learned by trial and error.
"There are many things for which this boat becomes a laboratory to find the answers to what we believe in. There is a sea of possibilities on board, and you are not locked into doing things in one particular way. There must be flexibility in all stages where we can have flexibility in order to find the final answer when the vessel is put into use."